ABOUT US
Chongqing Jin Te Rui Machine Co., Ltd. is a professional manufacturer committed to providing high-quality rapid prototyping and mass manufacturing services, including CNC machining, die casting, 3D printing, rapid tooling and injection molding, sheet metal prototyping, plastic, and aluminum extrusion, and integrating the design and development of new products.
We provide high-quality manufacturing solutions that can realize your design within a few hours. This allows you to conduct rigorous product testing and make all the necessary changes to perfect the design before proceeding to full production.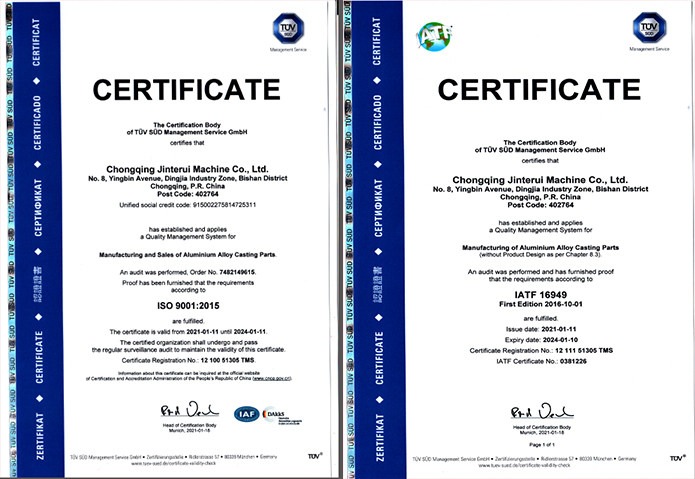 The company has more than 70 precision CNC processing equipment of various types, equipped with three-axis, four-axis, and five-axis machining centers, drilling and tapping centers, CNC lathes, and more than 10 ordinary machine tools such as lathes, milling machines, drilling machines, and grinders. The equipment has an annual processing capacity of up to one million pieces. In terms of testing equipment, our company has high-precision Hexagon CMM three-coordinate detectors, projectors, roughness meters, profilers, pneumatic measuring instruments along with other general precision measuring instruments and special inspection tools to ensure that the products meet the different needs of our customers, no matter in the sample development, trial production or mass production phase.
In terms of the quality management system, our company has passed the ISO9001:2008 and TS16949 quality system certification in 2015 and obtained the IATF quality system transition audit certification in 2017.
The company's core competitiveness also comes from our professional and mature technical team, high-precision equipment, and high-quality customer service.
Our products are widely applied in telecom, aerospace, automobile and motorcycle, industrial control, power electronics, medical instrument, security electronics, and so on. We have a wide customer base from small start-up companies to the largest multinationals such as BMW, Ericsson, etc. Over 60% of products are exported to America, Europe, and other Asia Pacific countries.
Chongqing Jin Te Rui Machine Co., Ltd. adheres to the business philosophy of "precision, reliability, science, and pragmatism, sharing and win-win", with rich manufacturing experience, determined to provide high-quality products and solutions to service our customers.
◆ 2012-Team Preparations
◆ 2013-Registered in Chongqing Administration for Industry & Commerce, and past ISO9000: 2001 quality management system certification in the same year.
◆ 2014-Further expanded the scale of production with more new multi-processing centers, drilling centers, and other CNC machining equipment.
◆ 2015-Past ISO/TS1694 quality management system certification.
◆ 2016- Strengthen internal control, introduce office automation systems and materials automatic control system, and gradually implement the modern management methods.
◆ 2017-Continuously develop new products, expand new customers, broaden our business channels, consolidate our business foundation, and further cooperate with our customers.
Company culture: Precision and Reliable, Scientific and Pragmatic, Sharing a Win-Win Situation.

Precision: Excellence, Continuous Innovation, Meet Customer Demand.

Reliability: Accurate, Constantly Beyond, Provide Quality Products, Ensure The Integrity and Reliable Supply of Services.

Science: Technological Innovation, Providing Wider Services.

Pragmatic: Stick Responsibility, Commitment.

Sharing: Hand In Hand Advance Together, Share The Achievements

Win-Win: Actively improve And Create the Biggest Results.

At Jin Te Rui, we recognize our key competitive advantage comes from our dedicated employees, we operate training programs for new and existing staff and maintain an excellent working environment throughout the factory. Brain drain is extremely low and many of our key engineers and managers have been with the company since its inception.




JTR is equipped with 70 latest CNC Machining Centres, including three-axis and four-axis machining machines, drilling machines, and CNC turning machines. Besides CNC machining centers, there are also advanced full-automatic die casting machines from 500T to 1000T with an annual capacity of million pieces of parts. To meet the inspection requirement from prototyping, trial-production, and production, we have Hexagon Metrology CMM, Projector, Roughmeter, Profilometer and Pneumatic Micrometer, etc.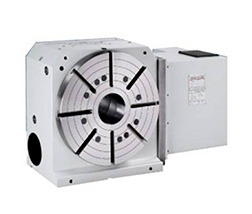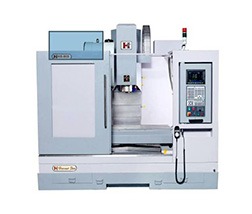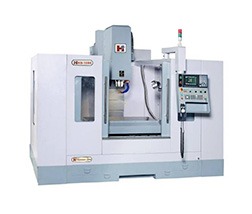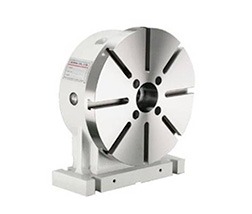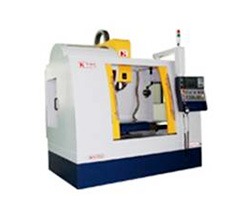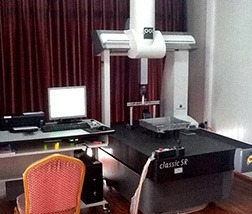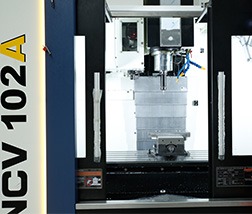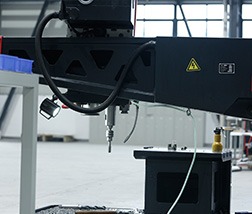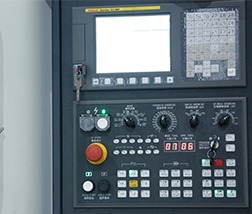 We have a wide customer base from small start-up companies to the largest of multinationals such as BMW, Ericsson, etc. Over 60% of products are exported to America, Europe, and other Asia Pacific countries.